Visitor Attractions and Features of the Flamborough Headland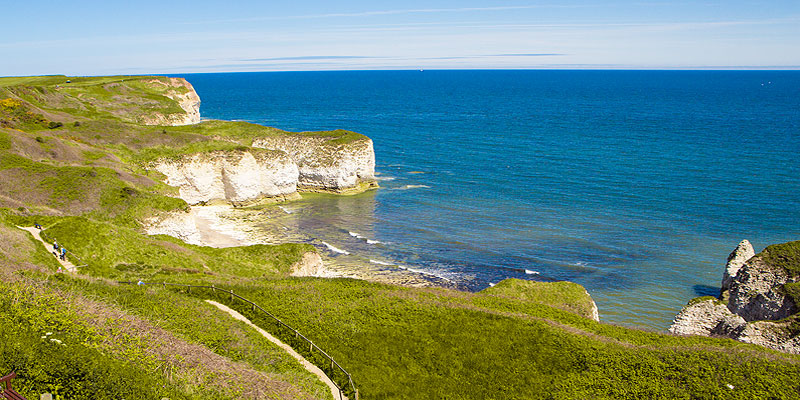 The Headlands Restaurant is ideally located for exploration of this fantastic coastal area as it is sited beside the Flamborough Lighthouse visitor attraction and at the heart of Flamborough Headland. This is excellent walking country and there are many walks to be enjoyed across the area and from the Headlands Restaurant itself.
The adjacent Flamborough Head Lighthouse of 1806 is open to the public with short guided tours. You can climb the 119 steps to its top to experience magnificent panoramic views over the coastline, with the Headlands Restaurant directly below you. Nearby is the original lighthouse of 1669.
Flamborough Head is one of Britain's most spectacular and unique stretches of coastline. Here an 8 mile chalk headland protrudes eastward into the waters of the North Sea. So important is this natural site that it is designated by the Countryside Agency in England as part of the Yorkshire Heritage Coast.
In addition, Flamborough Head has also been designated as a 'Special Area of Conservation' because of its variety of habitats and species. Here too is a 'Site of Special Scientific Interest' that incorporates the cliffs at Flamborough Head around the headland from Sewerby to Reighton Sands. There are several factors and features that contribute to this status, not least the fact that this is the only example of chalk sea cliffs in northern Britain, famous for its unique and wide range of cave habitats. It is worth mentioning that this unique area features a full range of geological deposits from the upper Jurassic and the whole Cretaceous period, dating from 70 to 100 million years ago. Furthermore, this dramatic coastal environment of caves, stacks, arches and blowholes is also a huge seabird nesting colony, one of the most important in Europe, with some 200,000 seabirds that includes one of only two mainland gannetries in mainland Britain.
To the north of the headland can be found Bempton Cliffs which is the site of a RSPB reserve with its popular visitor centre. Amongst the seabirds to be found around the headland are gannets, auks, kittiwakes, gulls, fulmars, herring gulls, razorbills, guillemots, shags and puffins. But inland there is different bird life to enjoy such as: meadow pipit and skylark on the grasslands; sedge warbler, reed warbler and reed bunting in the small areas of reeds; and yellowhammer and linnet in the rough gorse areas. The area is also rich in other wildlife including wild flowers, butterflies and moths.
To the south of the headland at South Landing, can be found the Yorkshire Wildlife Trust's Living Seas Centre which provides very useful local information as well as educational facilities.
A very unusual feature of the headland is Danes Dyke, a 2-mile long north-south trending ditch providing a western defensive barrier to the headland. This is a prehistoric historic site which has revealed Bronze Age arrowheads. A more recent visitor attraction to the south, only a few miles north of the popular seaside resort of Bridlington, is the Grade 1 historic building of Sewerby Hall built from 1714 and set in the 50 acres of Sewerby Gardens. Finally, a notable historic event associated with the headland is the sea battle known as Battle of Flamborough Head which took place in 1779.
Flamborough Head is a wonderfully beautiful location and the Headlands Restaurant an ideal base for your exploration and enjoyment.
If you are seeking to dine out with family or friends and are looking for a family restaurant, cafe bar or licensed bar, then come along to the Headlands Family Restaurant and Cafe Bar at Flamborough Head not far north of Bridlington and south of Filey. Eating out is a wonderful social experience, but this beautiful and inspirational location certainly adds to the atmosphere and emotions of your experience. Our clifftop location on the Yorkshire Heritage Coast is purely breathtaking. The location of Headlands Restaurant is a jewel on this coastline that encompasses such as Saltburn, Staithes, Whitby, Robin Hoods Bay and extends towards Scarborough in North Yorkshire, but here in East Yorkshire the Flamborough headland,stands supreme and dramatic. So come along and enjoy a warm welcome, excellent hospitality, mouth-watering wholesome food and magnificent scenery.