Walker, Rambler and Hiker Friendly Facilities and Location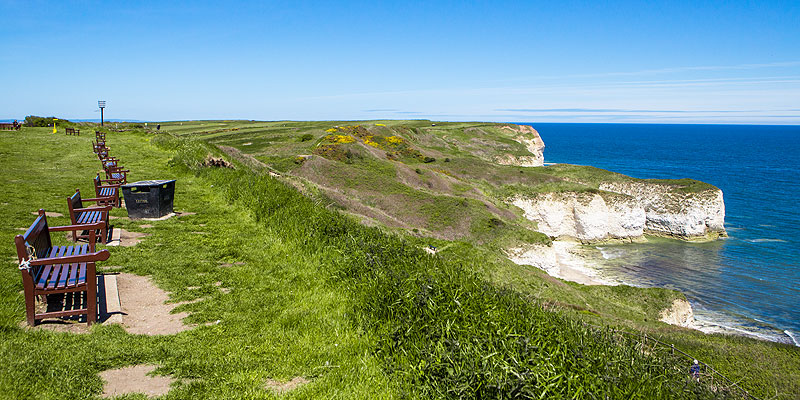 Fantastic walking country surrounds the Headlands Restaurant and as a result it is very popular with walkers, ramblers and hikers who often call in for food and refreshment and a well-earned rest.
Exploring the headland of Flamborough Head is the pastime of many visitors, many of whom follow the relatively easy coastal footpaths or venture inland to enjoy the rural delights of this farming area.
Many walkers arrive on the headland in cars as family or friendship groups seeking to enjoy the beautiful and spectacular coastal scenery and the abundant wildlife. However, we also welcome coach parties of rambling clubs and walkers clubs who arrive in organised numbers to explore and discover this unique stretch of coastline.
Walking, hiking and rambling are today a major and growing activity in Britain. One of the major advantages of the Headlands Restaurant location is that there are miles of relatively easy walking routes right here on the doorstep. These are mainly on grassland and country lanes and are largely relatively level with gentler gradients. And these can be used to whatever distance the requirements and abilities of each group of walkers dictate.
As a very popular destination for hikers and hiking groups who come to enjoy the stunningly scenic cliff top walks and pretty surrounding areas, we are hiker and walker friendly and provide a warm welcome and excellent hospitality.
If you are seeking to dine out with family or friends and are looking for a family restaurant, cafe bar or licensed bar, then come along to the Headlands Family Restaurant and Cafe Bar at Flamborough Head not far north of Bridlington and south of Filey. Eating out is a wonderful social experience, but this beautiful and inspirational location certainly adds to the atmosphere and emotions of your experience. Our clifftop location on the Yorkshire Heritage Coast is purely breathtaking. The location of Headlands Restaurant is a jewel on this coastline that encompasses such as Saltburn, Staithes, Whitby, Robin Hoods Bay and extends towards Scarborough in North Yorkshire, but here in East Yorkshire the Flamborough headland,stands supreme and dramatic. So come along and enjoy a warm welcome, excellent hospitality, mouth-watering wholesome food and magnificent scenery.