Bird Watching at Headlands Restaurant on Flamborough Head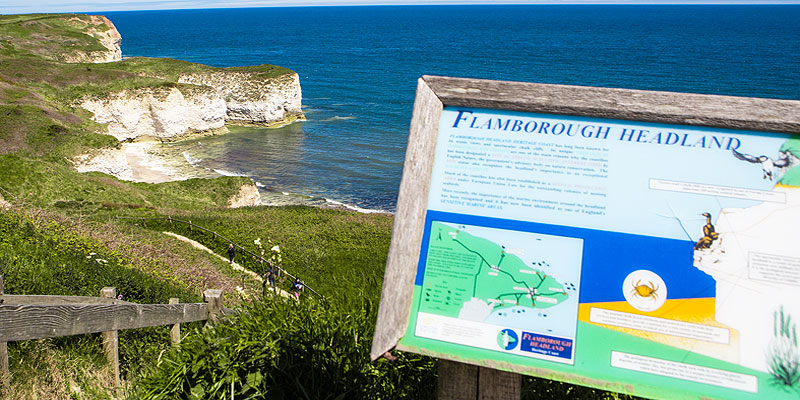 Headlands Restaurant is a popular destination for bird watchers. Ornithologists flock to our location to marvel at the incredible numbers and variety of seabirds, some of them rare, that nest in the vertical chalk cliffs around the Flamborough headland.
Not far to the north of Headlands Restaurant is Bempton Cliffs which is the site of a Royal Society for the Protection of Birds (RSPB) reserve and visitor centre.
But we must not forget that Flamborough Head is famous, not only as a 'Special Area of Conservation' because of its variety of habitats and species, but also as a 'Site of Special Scientific Interest' that extends from Reighton Sands south to Sewerby around this huge chalk cliff headland.
This stretch of coastline is famous for its huge colonies of different nesting seabirds that total in the region of 200,000. This is one of the most important bird colony sites in Europe and includes one of only two British mainland gannet colonies.
There is a tremendous variety of seabirds to be found around the headland, including birds such as gannets, auks, kittiwakes, gulls, fulmars, herring gulls, razorbills, guillemots, shags and puffins.
Inland, ornithologists can also watch different bird life. This includes birds such as meadow pipit and skylark on the grasslands; sedge warbler, reed warbler and reed bunting in the small areas of reeds; and yellowhammer and linnet in the rough gorse areas.
At South Landing is the Yorkshire Wildlife Trust's Living Seas Centre which is very interesting.
If you are seeking to dine out with family or friends and are looking for a family restaurant, cafe bar or licensed bar, then come along to the Headlands Family Restaurant and Cafe Bar at Flamborough Head not far north of Bridlington and south of Filey. Eating out is a wonderful social experience, but this beautiful and inspirational location certainly adds to the atmosphere and emotions of your experience. Our clifftop location on the Yorkshire Heritage Coast is purely breathtaking. The location of Headlands Restaurant is a jewel on this coastline that encompasses such as Saltburn, Staithes, Whitby, Robin Hoods Bay and extends towards Scarborough in North Yorkshire, but here in East Yorkshire the Flamborough headland,stands supreme and dramatic. So come along and enjoy a warm welcome, excellent hospitality, mouth-watering wholesome food and magnificent scenery.