Starters, Main Courses, Desserts, Ice Creams, Snacks, Light Meals & Beverages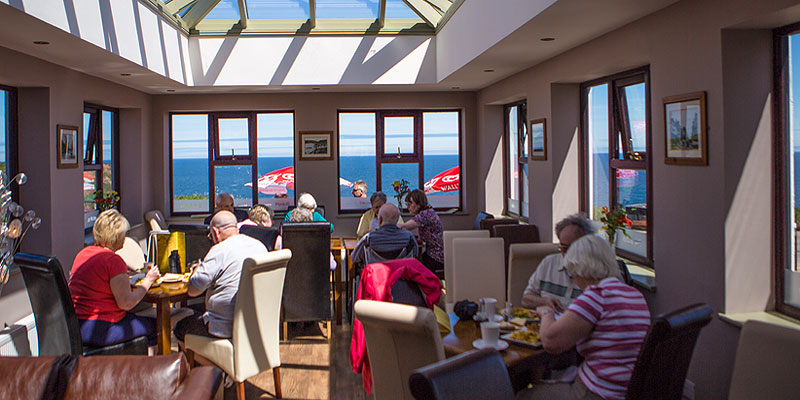 Our Restaurant Menu includes an incredible choice of dishes to suit all tastes. To browse through our numerous sample menus cooked to order from the freshest of ingredients, please select from the sample menus above. These are;
1. Main Course Meals from our Restaurant Menu
2. Starters, Snacks & Light Meals from our Restaurant Menu
3. Burgers and Omelettes from our Restaurant Menu
4. Side Orders and Children's Menu from our Restaurant Menu
5. Desserts & Ice Cream from our Restaurant Menu
6. Beverages & Drinks from the Bar
7. Breakfast Menu from our Breakfast Menu
8. Chef's & Sunday Specials
So why not take a day or half day and visit the Flamborough Head Lighthouse. You'll be made very welcome at the Headlands Restaurant with its splendid cliff top coastal views from its orangery, restaurant and bar areas.
Our menus cater for all with plenty of home-cooked selections of meat, fish and vegetarian dishes to suit all tastes... and you shouldn't miss our superb selection of mouth-watering fresh desserts. We also offer hot and cold beverages from our licensed bar.
So what better plan for a day out could you have than visiting Headlands Restaurant? Whatever the season and weather, the scenery is both spectacular and breathtaking... and you have the choice of our sea view indoor restaurant or our extensive patio terraces.
We are pleased to invite you to browse through our selection of photographs in our Food Photogallery... they will certainly whet your appetite.
If you are seeking to dine out with family or friends and are looking for a family restaurant, cafe bar or licensed bar, then come along to the Headlands Family Restaurant and Cafe Bar at Flamborough Head not far north of Bridlington and south of Filey. Eating out is a wonderful social experience, but this beautiful and inspirational location certainly adds to the atmosphere and emotions of your experience. Our clifftop location on the Yorkshire Heritage Coast is purely breathtaking. The location of Headlands Restaurant is a jewel on this coastline that encompasses such as Saltburn, Staithes, Whitby, Robin Hoods Bay and extends towards Scarborough in North Yorkshire, but here in East Yorkshire the Flamborough headland,stands supreme and dramatic. So come along and enjoy a warm welcome, excellent hospitality, mouth-watering wholesome food and magnificent scenery.