More About Headlands Restaurant at Flamborough Head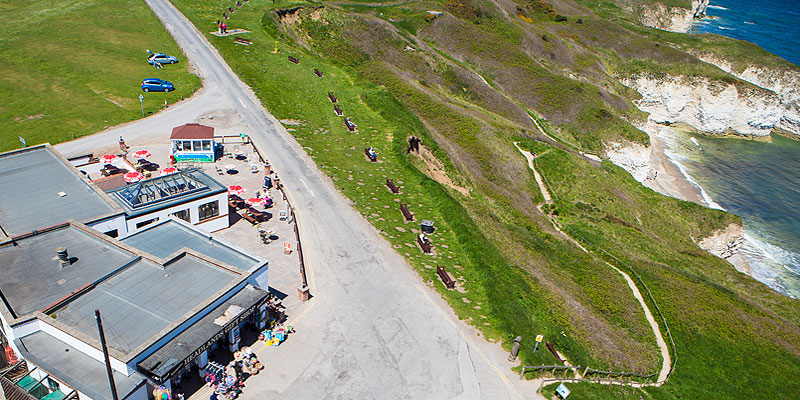 The closely-knit team at Headlands is a family operation dedicated to providing a standard of service and quality food that takes some beating. We look forward to seeing you.
We have recently completed a significant refurbishment programme to further enhance our facilities. This includes 2 new wonderful Orangeries which provides excellent sea views. Our restaurant can accommodate 150 people inside, plus 80 people on our patio terraces outside.
As well as our restaurant with an incredible variety of menus and dishes, we also have a gift shop and a bespoke ice cream kiosk on our front cliff top patio terrace.
Our location is truly breathtaking because of its scenic beauty and dramatic white chalk cliff coastline and landforms. The Flamborough cliffs are famous not just for the striking rock formations and maze of caves and coves, but also for the great many birds particularly puffins, razorbills, gannets and skuas which nest along the vertical cliffs.
Birdwatchers from all over the world visit the area hoping to catch a glimpse of a number of rare species that have been spotted around the Flamborough cliffs.
A very popular pastime in this area is that of walkers and hikers following the trails and paths across the Flamborough headland, but particularly along the coastal paths with their welcome viewing benches where you can take a well-earned rest and enjoy the splendid views.
So do come along and see us at Headlands Restaurant. We have so much to offer visitors of different interests and enjoy plentiful car, coach and motorbike parking facilities.
If you are seeking to dine out with family or friends and are looking for a family restaurant, cafe bar or licensed bar, then come along to the Headlands Family Restaurant and Cafe Bar at Flamborough Head not far north of Bridlington and south of Filey. Eating out is a wonderful social experience, but this beautiful and inspirational location certainly adds to the atmosphere and emotions of your experience. Our clifftop location on the Yorkshire Heritage Coast is purely breathtaking. The location of Headlands Restaurant is a jewel on this coastline that encompasses such as Saltburn, Staithes, Whitby, Robin Hoods Bay and extends towards Scarborough in North Yorkshire, but here in East Yorkshire the Flamborough headland,stands supreme and dramatic. So come along and enjoy a warm welcome, excellent hospitality, mouth-watering wholesome food and magnificent scenery.