Breakfast Menu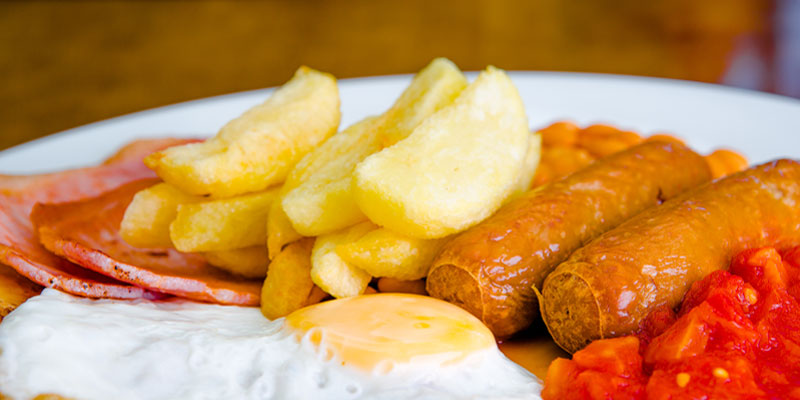 HEADLANDS 'BIG' BREAKFAST
Our Famous Breakfast
Comprises of:
Egg, 2 Sausages, 2 Rashers of Bacon, Tomato, Baked Beans, Chips, Toast and Bread & Butter
Not For The Faint Hearted - £4.95
HEADLANDS VEGETARIAN BREAKFAST
Comprises of:
Egg, Veggie Patti, Chopped Tomatoes, Baked Beans, Grilled Mushrooms and Toast
Only £4.95
Fancy your eggs scrambled or poached instead -
Please ask when ordering - a £1 supplement applies)
BREAKFAST BAPS
Large Floured Bap Filled with:
Bacon - £3.25
Bacon & Mushroom - £3.75
Bacon & Hot Chopped Tomato - £3.75
Bacon & Egg - £3.95
Sausage - £3.25
Sausage & Mushroom - £3.75
Sausage & Hot Chopped Tomato - £3.75
Sausage & Egg - £3.95
TEACON
Large Fruit Teacake filled with 3 Rashers of Bacon - £3.95
A fantastic fusion of flavours
Add mushrooms or hot tomato for 5Op each
BREAKFAST BAGUETTES
Hot Crusty Baguette with a generous filling of either:
Bacon - £4.75
Sausage - £4.75
Add mushrooms, hot chopped tomato or freshly sliced tomato for only 5Op per item
THE WORKS
Large Hot Crusty Baguette filled with sausage, two rashers of bacon, egg and hot chopped tomato - £5.95
BREAKFAST OMELETTES
V - Plain Omelette - £4.95
Served with a grilled half tomato and grilled mushrooms
Mixed Omelette - £5.95
Our own combination including cheese, ham, mushroom and red
onions. Served with a grilled half tomato and grilled mushrooms
EGGS BENEDICT
£4.95
The classic combination of poached eggs and our own
hollandaise sauce, served on a toasted muffin
Add two rashers of bacon - £6.95
SNACKS ON TOAST
Poached or Scrambled Egg On Toast - £4.95
Two eggs on two slices of toast accompanied with a grilled half tomato and grilled mushrooms
Beans On Toast - £3.50
Two slices of toast covered with a generous portion of baked beans
Extra 2 Slices of Toast & Butter - £1.50
BEVERAGES
Feeling a little fragile?
Start your morning after the night before with our Classic Bloody Mary
Only - £3.95
Really Rough? Then go large for an extra £1!
JUICES
Fresh Orange or Apple Juice (half pint) - £1.95
FRESHLY BREWED TEAS
Pot of Yorkshire Tea - £1.75
(per person)
Pot of Taylors Speciality Tea - £1.95
(per person)
COFFEES
Americano: Small £1.70 - Regular £2.00
Cappuccino: Small £2.00 - Regular £2.50
Latte: Small £1.90 - Regular £2.30
Espresso: Small £1.80
HOT CHOCOLATE
Hot Chocolate - £2.40
Hot Chocolate served with Marshmallows - £2.85
The Works Hot Chocolate served with Marshmallows, Whipped Cream & Flake - £3.45
If you are seeking to dine out with family or friends and are looking for a family restaurant, cafe bar or licensed bar, then come along to the Headlands Family Restaurant and Cafe Bar at Flamborough Head not far north of Bridlington and south of Filey. Eating out is a wonderful social experience, but this beautiful and inspirational location certainly adds to the atmosphere and emotions of your experience. Our clifftop location on the Yorkshire Heritage Coast is purely breathtaking. The location of Headlands Restaurant is a jewel on this coastline that encompasses such as Saltburn, Staithes, Whitby, Robin Hoods Bay and extends towards Scarborough in North Yorkshire, but here in East Yorkshire the Flamborough headland,stands supreme and dramatic. So come along and enjoy a warm welcome, excellent hospitality, mouth-watering wholesome food and magnificent scenery.